"That mayor woman, she's gone, yes?"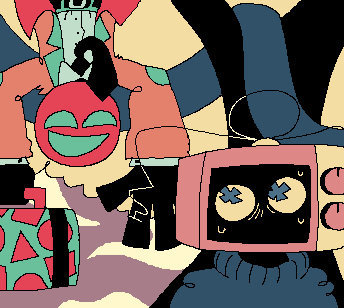 Daisy stared for a moment before nodding. "I, eh, yes?" They recognized the figure in some way, but Daisy couldn't remember who it was exactly...
"Great!" He pulled himself back upright and jumped down from the tree, still holding the suitcase in his right hand. "Oh, wow! Would you look at that?"
He walked past Goodbye, approaching the spire. "Isn't it great?"
"Well, uh, what is that—"
"It's great, isn't it!?" He laughed.
As he walked past Daisy and towards the spire, his face remained at a fixed angle. Almost like it was stuck. It was only mildly disturbing.
"...Say, it's a bit unusual to see a little fellow from Grey all the way out here! Are you here on business?"
"I— what?"
"Ah, forgive me for not introducing myself earlier. I am the Salesman!" He reached out to shake Daisy's hand, his back still facing them. "I'm here on the behalf of our King!"
Salesman.
Daisy did not shake his hand. "What's the giant spike for?"
"You see it's... It's for the continued glory and splendor of the Kingdom of Arizona, of course!"
"Glory and splendor," Daisy echoed, angling their head. They knew the Salesman.
"It's a publicity stunt."
Taking a moment to look back at Goodbye, who looked as lost as ever, Daisy replied slowly. "Okay, I think we'll be leaving now—"
"Now, now, you just wait! I deal in far more than glory, you know—" the Salesman popped his briefcase open "—and what's a salesman without his products anyway? If none of this interests you, I've got plenty of other briefcases!"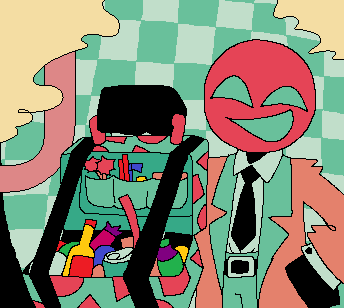 Goodbye stammered, "Ah, no, no we don't need anything really, we're just— Daisy."
They were already rummaging through the briefcase, grabbing anything that had bright enough packaging.
"How are you even going to carry all of that? You didn't even bring a bag!"
Daisy waved away at Goodbye. "Shush."
It's not like there's anything wrongwith a little self-indulgence every now and again. They haven't had some of this stuff in forever! Most of it was stationary or office junk, but the snacks were a treasure trove of nostalgic Factory garbage.
The Salesman began addressing Goodbye. "So, what are two folks like you doing here in Andorgate?"
"Oh, nothing," said Goodbye, glaring at Daisy. "We're only passing through."
"Really! Where to?"
"Just Factory—"
Daisy kicked Goodbye in the leg, "Actually, I think that's all I need!" They smiled.
The Salesman held his left hand out towards Daisy, palm facing upwards. "Now, I understand if you don't have any currency, this is Indigo after all! ... but I do need some form of payment."
Daisy stared.
"Maybe you have some items of value? That red umbr—"
"OH! Right, right! Eh, let me just..." They dug out their wallet, shifting the assortment of food and beverages they held to the side. Daisy wasn't entirely sure how much all that was worth... They flipped through their wallet a bit before settling on 20 or so Lamina store vouchers and a few stray tickets. "Would that cover it?"
The Salesman froze completely, "I—..."
"Eh, Goodbye, do you want anything?"
"... Sure?" He picked out a soda and a silly straw from the still open briefcase. Daisy dropped another ticket and a few bus tokens into the Salesman's hand as Goodbye slid the soda into his bag.
"Pleasure doing business with you!" Daisy walked away briskly, they were a little out of practice with in-person spending.
"W—wait!" the Salesman had begun packing up, pocketing the vouchers and desperately trying to keep pace. "You said you were headed to Factory, correct?"
Daisy glared at Goodbye. "We are."
"And... you're going on foot? At this time of cone?"
"It's sort of an—" Daisy grit their teeth "—an emergency trip."
"My my, it must be! You do know all the Cavernways in Elsewhere are flooded right now, don't you?"
"We do."
"So you two will have to pass through both Elsewhere and... Arizona, yes?"
This was obviously leading up to the Salesman asking them a favor. "Mhm."
"See, I have some business there that I can't exactly attend to at the moment. I'm wondering if I could ask you for a favor."
There it was.
Now, Daisy didn't want to do anything they didn't already have to, but... "What exactly do you have in mind?"
"I just need you to deliver something—" he pulled a small gift bag and a business card from his suit jacket, "—it should be on the way."
The gift bag was unassuming enough, it had a picture of the Salesman's face printed on front and was stuffed full of tissue paper. The card was glossy with an address scribbled over it.
"Hold this for me just a moment," Daisy dumped their assortment of snacks into Goodbye's arms and slid the bag over their wrist.
Goodbye fumbled. "Daisy!"
"Consider it done. Anything that I, eh, need to know?"
"There's nothing more to it. Just get the bag over to that address and I'll owe you a lot!"
Good to hear. Daisy nodded. "Now, Mr. The Salesman, we really ought to get going. I'm on a time limit, you know! Come along, Goodbye."
Daisy ran off before anyone could respond. Goodbye hurried after them.